A Family Connection to Chiropractic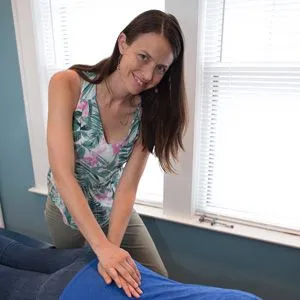 With several chiropractors in the family including her mom and aunt, Dr. Kate decided at age 12 that she would enter the natural health profession. Growing up, chiropractic helped her perform in track and dressage horseback riding. ''I felt like chiropractic gave me an edge. I saw that other people didn't experience the same health I had, and I wanted to offer that to other kids and families."
When she was a child, her mom attended Palmer College of Chiropractic, and Kate would hang out in classes or on campus. It's no surprise that she ended up becoming a chiropractor herself.
A Life-changing Approach to Natural Health
During her time studying chiropractic at Life University, Dr. Kate learned about Bio-Geometric Integration (BGI). It transformed the way she thought about chiropractic and allowed for gentle adjustments that have a powerful impact. This method allows her to look at your physical and emotional health, helping support your personal growth.
She even teaches a course at Life University on BGI, informing students about the approach that has had such an influence on the way she treats participants. In addition, Dr. Kate is certified in the Webster Technique to care for pregnant women.
Well equipped to care for a variety of participants, she's also taken additional master classes in sports chiropractic and courses on pediatrics. This full spectrum of skills has allowed her to have extensive expertise in helping women through pregnancy. She often attends home births and adjusts moms during the labor process. Birth interventions have even been avoided with Dr. Kate's help.
Dr. Kate enjoys spending time outdoors in nature hiking. She's an accomplished horseback rider and has two horses, a mother and foal, that was born in April 2016.
We offer convenient Saturday appointments. Contact us today to book your time!